Manasquan Fishing
Striped Bass Fishing Charter From Manasquan
Striped Bass Fishing Charter From Manasquan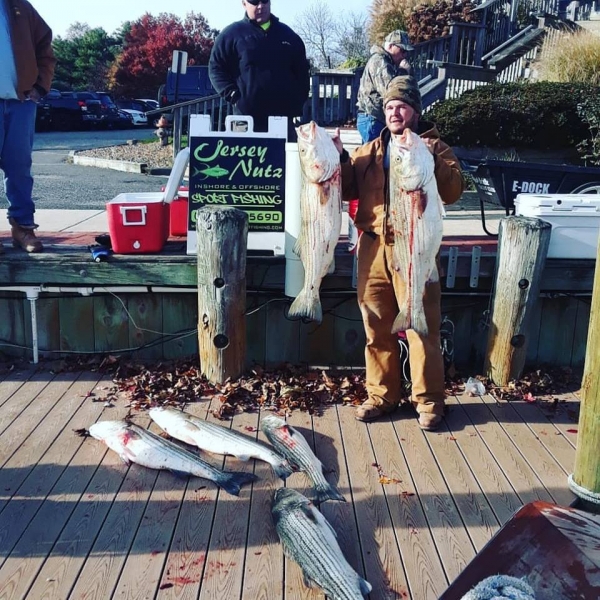 When winter finally starts to ebb and spring begins to poke around the corner, striper fishing is on the mind of anyone who wets a line. We make plans to intercept the striped bass as they make their way up the Atlantic Coast to their annual breeding grounds. On board the charter vessel Jersey Nutz, we're prepared for whatever these stripers have in mind. Fortunately, they're creatures of habit. Over the years, we've come up with three tried-and-true methods to catch stripers in the waters off Manasquan. Some days, it's easy. Other days, not so much. On those days, all the head boats and party boats around us are struggling to put fish on deck. But any day is a good day to fish with us. The fact is these picky and fickle fish are downright difficult to put on deck. If you're on an overcrowded boat, you might as well pour yourself a cup of coffee and watch the waves. You can toss all the jigs in the world at them, but your day will be full of empty lines if the boat and crew are not savvy enough to use the methods required to coax a lunker striped bass to take a bite. The area that we fish here off of northern New Jersey — from Manhattan to Barnegat Inlet — is unlike anything else on the East Coast, and stripers love it!

Our Striper Fishing Techniques
The preferred method for catching these fish for any angler is live lining a freshly hooked bunker back into the pod, then watching him get swallowed up by a monster bass. Sounds simple, right? Don't get us wrong, there are those days when we pull out of Manasquan, and the bass are blowing up on the bunker just outside. But what about those times when your bait is not getting taken right away, even though you think your captain has put you in the right spot? After all, there's food there for the fish to eat. On those occasions, have you ever thought your captain was wrong? That just might be the case. Throughout the many years that we have been taking clients out in search of stripers and many other types of fish, we know what a school of bunker looks like when there are fish feeding on it. It takes a knowledgeable captain and crew to know if that pod of bait is worth fishing. On board the charter boat Jersey Nutz, we won't spend time on a pod of bait that isn't producing fish. Instead we'll venture out further and tap into our vast network of friends to help us put you on the fish. Once we find a pod that is holding fish, we use various techniques to deploy the baits. This is where it gets interesting — yes, there's a method to the madness! There are many ways to hook and prepare a bait. Many other boats are manned by crew who either don't know how, or simply do not take the time, to make a proper presentation. That can be the difference between enticing a bite or not even getting a look from your trophy striped bass as it swims by the boat. We take pride in our attention to detail and are delighted to share our ideas and techniques with our clients.

Should we feel the conditions are not favorable for live lining, there may be a better opportunity to jig. That's exactly what we'll do! Jigging for stripers is a pretty involved task, and as an angler, you must be dedicated to it. In jigging mode, it's a nonstop involved dance between the anglers, mates and captain. The decision to jig is usually because we've found the stripers holding in a tight school, so we'll have to make constant drifts over the top of the school in order to produce good numbers of fish. Anglers must be on the rod constantly, making their best attempt to entice a strike. The captain has a lot to do as well, keeping the boat over top of the fish. Typically, multiple different jigs will be deployed at the start of our session. Once we get dialed into the type of jig that the fish are snapping up, we'll switch over the gear to match that jig. Jigging can be extremely exciting, and it's a great way to get a bite when fishing for bass. You have the opportunity to experience the whole event, and next thing you know, you're doubled over on a lunker!

Onboard the Jersey Nutz we're also set up for — and very effective at — trolling for stripers! This is probably a direct byproduct of our thousands of hours spent offshore trolling each summer for tuna. Regardless, when it comes to trolling these fish, we can assure you that there are very few, if any, who are better at it than us! We are FULLY equipped with all types of trolling gear for bass. In fact, we're pretty certain that, unless you have fished with us before, you have not even heard of — or seen — some of the techniques we use to catch these beautiful specimens. Trolling for stripers off the coast of Manasquan is delectably exciting. Relax on our mezzanine, drink a cold beer or work one of the lines. As soon as one of the rods starts to double over, it's game on! Having a tug of war with a striper, hooked up to the end of a larger trolling setup, can be a challenge for any angler! These fish do not like being pulled up from their natural habitat, and they often pack plenty of attitude throughout the fight!

Whether you come fishing with our crew during the Spring or Fall striper run, we'll be ready for you. We are always geared up to put fish on the deck for your group! We're here to catch fish. It's our job, and we don't take it lightly. In addition to being fully equipped to catch these awesome fish off the coast of Manasquan, New Jersey, our boat is meticulously maintained. Our clients often say it's the most beautiful boat they have fished on, hands down. Our crew will put the needs of your group first and do all we can to exceed your expectations. The Jersey Nutz has become the prominent name for North Jersey Charter fishing. Book your trip now to experience the action!


Striped Bass Fishing From Manasquan